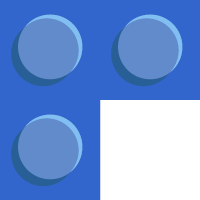 Parties that Wow Kids and Parents
Want to throw your child a birthday party that is fun and entertaining? Snapology birthday parties are loved by parents and children. If your child loves building, our parties are the perfect fit. A Snapology party integrates fun, hands-on learning activities using LEGO® bricks. We'll take care of all the details! Your certified Snapology party facilitator will set up, conduct an engaging STEAM-based activity, and clean up.
Fun and (Shhh) Educational.
Customized for your child.
No messy house, no clean-up.
Simple and Affordable!
Our popular party themes make it easy to customize a party to suit your child's interests. Snapology will lead your birthday star and guests through a hands-on building activity based on your party theme. 
*Theme availability varies by location. Please find your local Snapology to learn more. 
Mobile STEAM Lab Party
All Ages
We bring the party to you! No need to spend your time cleaning up the house and getting decorations or entertainment ready. Let Snapology take care of everything in our mobile STEAM Lab. We provide the space, the instructor, the materials, and the super fun activity! Party is one hour. Add 30 minutes for pizza and cake (customer supplied) for $125. Fuel surcharge is $25. Bus seats up to 24.
Combat Robots Party
Ages 6+
Party guests will learn engineering strategies for building sturdy structures using LEGO® bricks, motors, receivers, and remote controls. Then they will learn how to maneuver their bots perfectly before battling their bots in friendly competitions and games. Bring it on!
Spin Art Party
Ages 6+
Celebrate with a spin art party! Party guests will build a spin art machine using engineering kits to make fun, unique art that they can take home and show off to friends and family. You'll be amazed by what your child can create in this fun, hands-on party.
Party Like a Preschooler
Ages 3-5
Celebrate your little builder – Snapology style! One of our certified Snapologists will lead fun, age-appropriate and educational party games for your birthday star and their party guests. Make this a birthday to remember!
Awesome Themed Party
Ages 4+
We'll work with your child's favorite movie, game, or character to build a custom party that will delight everyone! Our custom themes make your child's birthday party completely unique to them. Give them a party they'll never forget. It's easier than you may think!
Motor Mania Party
Ages 6+
Your birthday star and their party guests will build an awesome amusement park ride using LEGO® bricks. Watch their eyes light up while they use their imagination and STEAM skills to design the ride of their dreams.
Epic Robotics Party
Ages 6+
With programmable robotic models using LEGO® bricks, partygoers will choose from a variety of robots to program. Watch as your child and their friends explore programming skills and bring their robots to life. You may even have a hard time pulling them away for cake.
Play Only Party
All Ages
Let kids do what they do best – play! Your birthday star and guests will explore and play in our Discovery Center. We provide all the toys and materials for a super fun creative playtime as well as the use of our party room to celebrate.
Crazy Science Party
Ages 6+
This hands-on party option will keep your birthday star and guests having fun and learning science concepts as they make their own slime. This party comes with an instant party favor because everyone gets to take their slime home.
Find your local Snapology to learn more about birthday party options available in your areas
Party Planning Made Simple
We know parents have a lot on their plate. At Snapology, we make planning the perfect birthday party a snap! Planning a birthday party with Snapology is quick and simple.
Choose a Theme
You know your child best. Simply choose the theme that you know will make their eyes light up.
Schedule Your Dates
Find your local Snapology and schedule a date to celebrate your child's birthday.
Choose Your Party Details
Work with your Snapology party planner to finalize all the details like food, favors, and decorations.
Ready to Book a Super Fun
Birthday
Party
Book your next party at Snapology and see why our birthday parties are the best!